Break Free from Blockages with King Rooter & Plumbing's Drain Cleaning Boulder Co
Nothing throws off your groove like a stubbornly clogged drain, whether it's a shower turning into a mini-pool or a kitchen sink refusing to drain. And let's face it, unchecked drain issues can punch a hole in your pocket in the long run. That's where King Rooter & Plumbing comes into the picture as your trusted partner in Boulder, CO.
We've got firsthand knowledge: a clogged drain isn't just a minor hitch. It could stall your business, throw your home routine off the rails, and even pose health risks. That's why our prompt, top-notch drain cleaning services are tailored to bring back the smooth flow you're used to.
Ditch the endless 'drain cleaning service near me' searches. King Rooter & Plumbing is Boulder's trusted partner for pristine pipes. Reach out today and let's keep things flowing.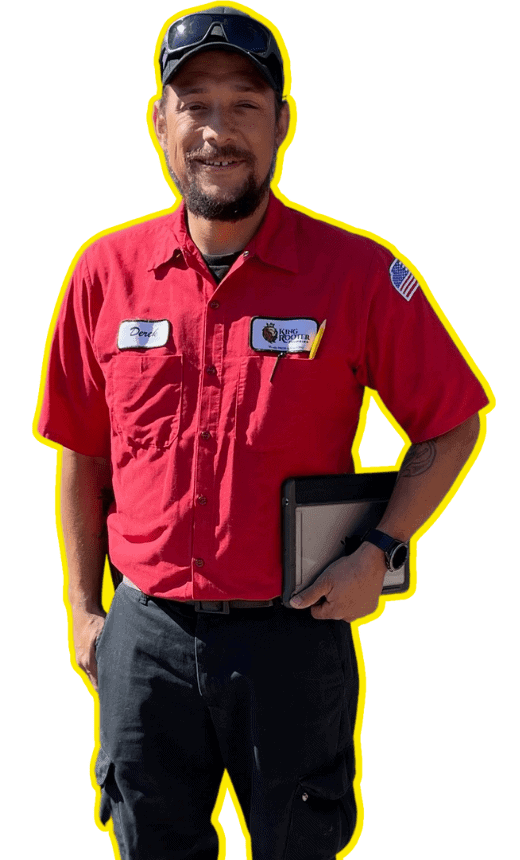 Are You Ready To

Get Started?
Schedule Your Estimates Today
Say Goodbye To Clogged with Our Comprehensive Drain Cleaning Services in Boulder, CO
At King Rooter & Plumbing, we provide a range of drain cleaning services to ensure your plumbing system is functioning at its best. Our expertise extends to every aspect of drain maintenance and cleaning. Let's have a closer look at our offerings:
Residential Drain Cleaning
Keeping Homes Free From Clogs 
From slow-draining kitchen sinks to clogged bathroom drains, we have the expertise to solve all your home drain issues. Our team uses advanced drain cleaning techniques that not only clear the blockage but also help prevent future clogs. 
Commercial Drain Cleaning
Maintaining Efficient Operations For Businesses 
Time is money in business, and a clogged drain can disrupt your operations. We offer quick and reliable commercial drain cleaning services that minimize downtime and keep your business running smoothly. 
High Pressure HydroJetting
Intense Cleaning for Stubborn Blockages
Some blockages demand more than the regular fix. Our hydrojetting service uses high-pressure water streams, ensuring even the most tenacious clogs are history.
Drain Camera Inspection
A Clearer View of Your Drains
Eliminate guesswork! With camera inspections, we get a clear visual of your drain's state, pinpointing issues accurately and formulating precise solutions.
Cabling "Rooter" Service
Tackling Tenacious Blockages
When traditional methods fall short, our cabling service swings into action, efficiently breaking down stubborn obstructions and ensuring a clear passage.
Preventative Drain Maintenance
Avoiding Future Clogs 
Preventative maintenance is key to avoiding future drain problems. We provide routine drain maintenance services that include regular cleaning and inspections to ensure your drains remain clear and functional.
Emergency Drain Cleaning 
Ready To Serve When You Need Us Most 
Plumbing issues can occur at the most inconvenient times. That's why we offer emergency drain cleaning services in Boulder, CO, and surrounding areas. No matter when a clog strikes, you can count on us to be there to fix it.
At King Rooter & Plumbing, we pride ourselves on providing top-tier drain cleaning services that give you peace of mind and keep your plumbing system in top shape. Contact us today to schedule your service.
Signs That You Need Drain Cleaning Services
Early detection of drain issues can save you from hefty repair costs and potential property damage. But how do you know when it's time to call a professional? Here are some signs that you need our drain cleaning services:
1. Slow Drains 
One of the first signs of a clog is slow drainage. If your sink, tub, or shower takes longer than usual to drain, it's time to schedule a drain cleaning service.
2. Frequent Clogs 
If you're experiencing clogs regularly, this could indicate a larger blockage in your plumbing system that needs professional attention. 
3. Unpleasant Odors
Foul smells coming from your drains can be a sign of food or waste buildup. If left untreated, this can breed bacteria and even lead to health issues. 
4. Backflow 
Backflow or water coming back up your drains, is a serious issue that indicates a blockage in your plumbing system.
5. Multiple Clogged Drains
If several drains in your home are clogged at the same time, this could signal a problem with your main sewer line. 
6. Gurgling Sounds
Unusual sounds like gurgling coming from your drain could be a sign of a blockage disrupting the flow of water. 
If you're experiencing any of these signs, don't wait until the issue escalates. Contact King Rooter & Plumbing, the best drain cleaning service in Boulder, CO, to get your drains flowing smoothly again.
Why Choose King Rooter & Plumbing for Your Drain Cleaning in Boulder, CO?
Navigating through drain dilemmas? We've got the expertise and the equipment to set things straight:
State-of-the-Art Techniques: From High Pressure HydroJetting to advanced Drain Camera Inspections, we utilize the latest and greatest in drain cleaning tech, ensuring precise and lasting solutions.
Expertise You Can Trust: We're not just familiar with Boulder's drains; we're experts in them. With a rich history of serving the Boulder community, we've encountered and conquered a spectrum of drain challenges.
Speedy Solutions: Time's precious, especially when a clogged drain's causing chaos. Our prompt response and efficient service means your plumbing problems get fixed in a flash.
Comprehensive Care: Beyond just fixing the current clog, we look at the bigger picture. With services like our Cabling "Rooter" and Preventative Drain Maintenance, we aim to keep you clog-free for the long haul.
Reliability, proficiency, and a dedication to Boulder's plumbing health – that's King Rooter & Plumbing for you. Partner with us, and let's flow towards a clog-free future!
Facing Drain Dilemmas in Boulder, CO? We've Got Your Back!
We get it - clogged drains can bring your daily routine to a grinding halt. But that's where King Rooter & Plumbing shines! Whether it's an "oh-no" emergency or a routine check-up, we're here to ensure a swift and smooth solution.
You focus on your day, and let us handle the drains. Reach out to King Rooter & Plumbing now to schedule your service and bid those blockages goodbye!