Water Heater Installation & Replacement
King Rooter & Plumbing is the hot water heater installation and replacement expert in Denver, having installed and replaced thousands of water heaters.
If your water heater is 15 years old or more, it may be time to get new hot water heater installed if your warranty has expired. We can perform an inspection to let you know about the condition of your water heater.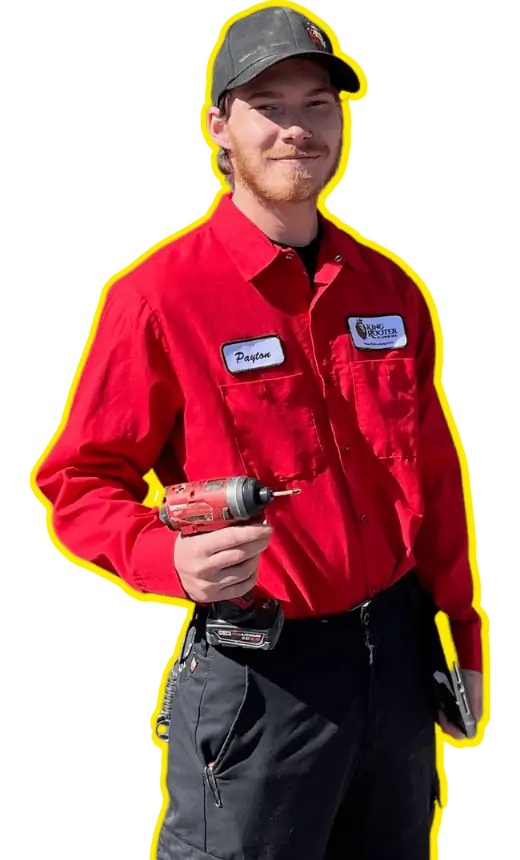 Are You Ready To

Get Started?
Schedule Your Estimates Today
Water Heater Installation
What separates us from other plumbing companies is our commitment to providing excellent customer service, adhering to all codes, and safe installations. Whether you live in a single-family home, condo, apartment, mobile home or townhouse, we provide quality installations.
To ensure that we are providing high-quality work and customer peace of mind, all our plumbers are background-checked, licensed, bonded, and thoroughly trained to safely perform water heater replacements. In addition to traditional water heaters, we also install tankless water heaters, and heat pump water heaters.
When our installation technician arrives at your home, they will inspect your current water heater, review any required code changes, and provide you with a no obligation water heater installation cost.
Our installers come ready to work, with a new water heater ready to install.
Our technicians are based in your local area, so they are always up-to-date on local plumbing codes, and safety regulations. We offer same day service and can get to your home quickly and easily.
Included with Water Heater Install
New Installation
Meet Code Requirements (this could include new shut off, expansion tank or thermal expansion valve, gas flex, copper flex lines
Inspection (depending on county)
Manufactuer's Warranty
Extended Warranties available
Disposal of Old Water Heater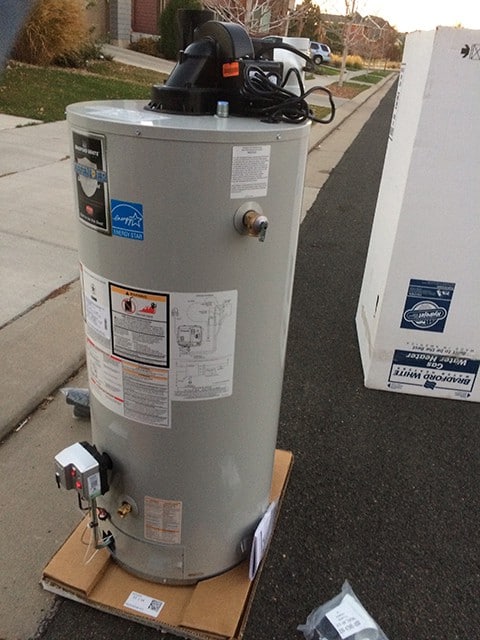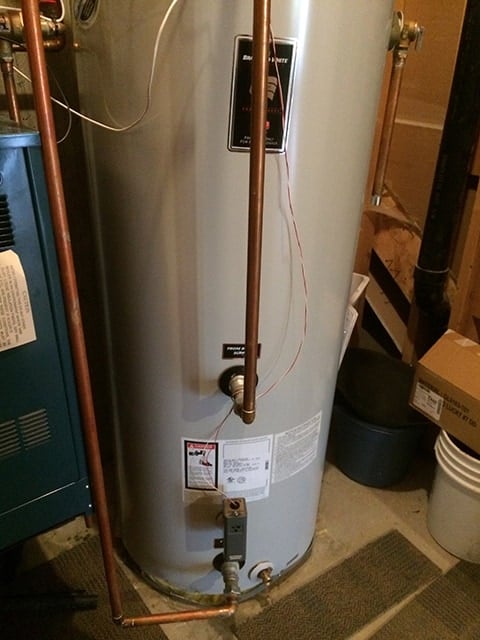 If your current water heater has become damaged beyond repair, or simply is not working well and out of warranty, we recommend a water heater replacement.
Water Heater Features to Choose
Warranty: Most water heater warranties are from three to twelve years. Models with longer warranties normally cost slightly more, but they components that heat water faster and are insulated better to prevent heat loss.
Anti-Scale Devices: Some water heaters promote features that reduce mineral scale buildup by churning water in the bottom of the tank. Features such as these add cost, and aren't that effective. Your best strategy is to get the water heater with the 12 year warranty.
Brass vs. Plastic Drain Valves: Go with the brass drain valves which are more durable than plastic.
Glass-Lined Tanks: These are designed to reduce corrosion in the tank.
Digital Displays: These help you monitor and customize the water heater operation faster and more easily. They show tank levels, temperature, pressure, and other information. They also have auto settings such as vacation modes that increases energy efficiency.
Bradford White Water Heaters
One of the water heater brands we highly recommend is Bradford White. They are one of the leading brands in the water heater business offering excellent products, warranties, and service. They are the only brand Made in America, and Built to Last.
Why Bradford White?
High Quality, Durable, Reliable
Only Brand Made in America
6 Year Manufacturer Warranty
Additional 10 Year Warranty Available
Replacement Parts Readily Available
Excellent Technical Support
Self Cleaning System that Saves Time and Maintenance
There are several choices of water heaters, each with its advantages and disadvantages. The best one for your home depends on how much hot water you use, and the heating method (electricity, gas, oil). Some claim to reduce energy costs by up to 50 percent of traditional storage models. The trade-off is that the initial costs are higher and your return on investment will take longer.
Storage Tank Water Heater (Gas)
Storage tank water heaters are the most common, and are run with gas. Their design consists of an insulated tank where water is heated and stored until needed. Natural gas water heaters are more energy efficient and operating costs are reduced by about 50 percent, compared to electric water heaters. Storage tank water heaters have a higher initial cost than electric.
Heat Pump "Hybrid" Water Heater (Electric)
Heat Pump water heaters capture heat from the air and heat the water. The energy expended is approximately 60 percent less than standard electric water heaters. Initially, they cost more than electric-only types, but return on your investment time is short, and installation is similar to electric water heaters.
Drawbacks to be aware of is that hybrid water heaters need to be installed in an area that stays between 40 to 90 degrees, or they will not work well. They need up to 7 feet of clearance from the floor to ceiling, because the heat pump is on top of the water heater. Also, hybrids require up to 1,000 cubic feet of uncooled space to capture enough heat from the air, and a drain in close proximity to discharge the condensate.
Tankless (On-Demand) Water Heaters
In contrast to heating and storing hot water, tankless water heaters use heating coils to heat the water on-demand, as you want to use it. Their energy efficiency is higher than a storage tank, however, the flow of hot water is limited to about 3.5 gallons per minute.
Tankless heaters are ideal for homes where hot water is needed for simultaneous usage, such as running a shower/bath at the same time you're running a dishwasher or washing machine.
Tankless water heaters are better for homes that heat water with natural gas. Electric models may require an upgrade to the electrical system, that could incur additional costs for upgrades.
Energy Efficient Water Heater
We offer energy efficient water heater solutions meeting the NAECA efficiency standards. If you have an old water heater, you may consider upgrading to one of these energy efficient water heaters that offers a cost savings on your utility bills, and quicker recovery times.
Water Heater Brands We Carry
We offer Bradford White, Rheem, and State water heaters. These are the top brands and most reliable water heaters on the market. We can also get any other brand or model water heater that you need.
Install All Major Brands
We also install all major brands of water heaters including:
A.O. Smith
Bradford White
Bosch
GE
Kenmore
Reliance
Rheem
Ruud
Stiebel Eltron
Whirlpool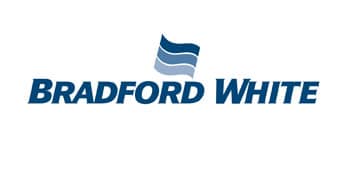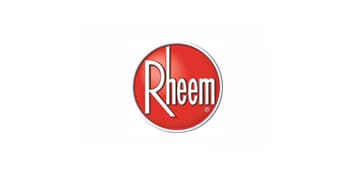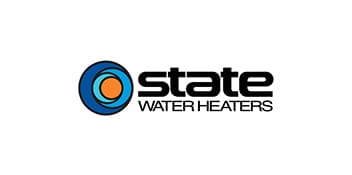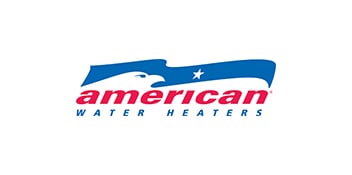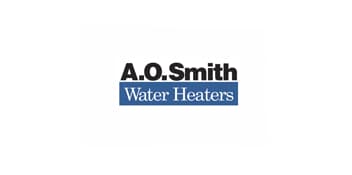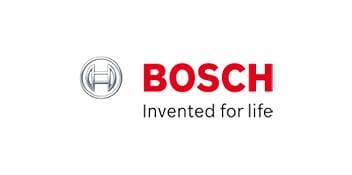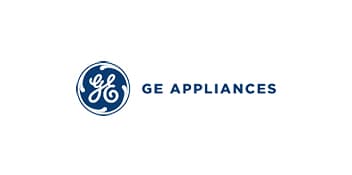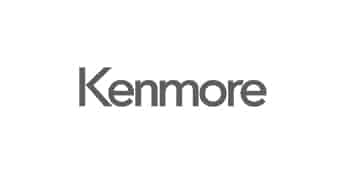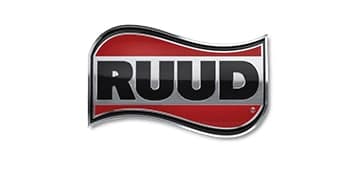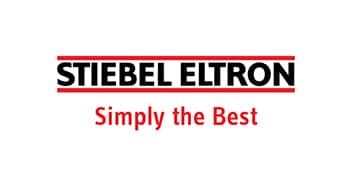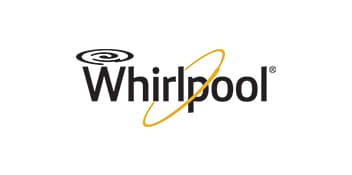 The cost of installing or replacing a water heater depends upon a few factors. Call us today at 303-949-2593 to get a free estimate, and learn about the options.
Repairable or not
Up to code? – are pipe connections, pipe conditions, gas line conditions
Water heater brand, model, size, capacity
Electric, gas, hybrid, energy efficient