Scouring your pipes sparkling clean!
High Pressure Jetting or Hydro Jetting is the quickest method to unblock your blocked drain lines. King Rooter & Plumbing is a Drain Jetting Denver expert, having cleared thousands of drain pipes since 2006.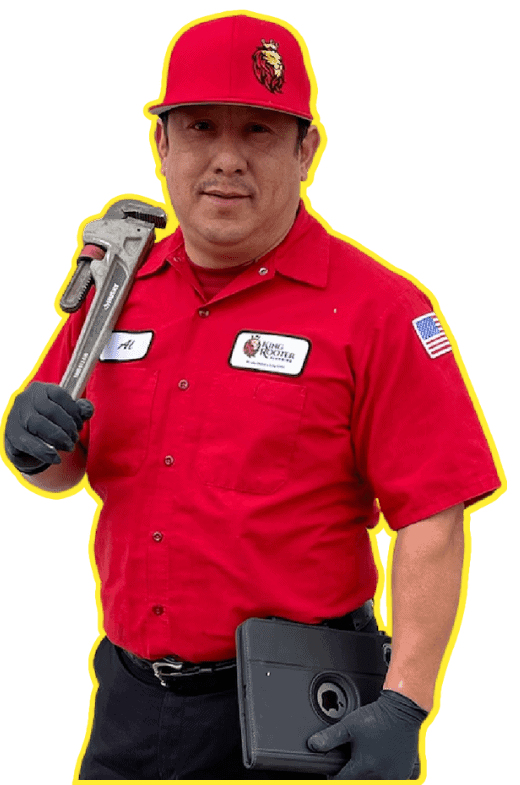 Are You Ready To

Get Started?
Schedule Your Estimates Today
Are you experiencing clogged or slow draining pipes in your home or business?
Over time, debris such as sediment, sludge, and other substances can accumulate in your drain pipes, causing blockages similar to blocked arteries. High pressure jetting, also known as hydro jetting, is a fast and effective method to clear blockages and debris from your drain lines. Hydro jetting uses a powerful high-pressure water jetting system to blast away any substances and free the debris, allowing waste to flow freely through the drain. Not only does hydro jetting save you money by removing every blockage in your drain lines, but it also prevents further plumbing problems in the future.
King Rooter & Plumbing is a trusted expert in drain jetting in Denver, with over 15 years of experience clearing thousands of drain pipes. We'll find and clear out all of the clogs in your drain lines. We also offer a range of other drain cleaning services, including:
Hydro Jetting
Residential High Pressure Jetting
Commercial High Pressure Jetting
Emergency Hydro Jetting
Drain Line Locating
Drain Line Video Inspection
Clean Roof and Scupper Drains
Locate and Repair Drain Lines
Clean Parking Lot Catch Basins and Storm Drains
De-Root Lines with High Pressure Jetting
Hydro Jet Grease Lines
Perimeter Drains
Whether you need to unclog a residential or commercial drain, we have the expertise and equipment to get the job done quickly and effectively. Don't let a clogged drain disrupt your daily life - contact King Rooter & Plumbing today to schedule a high-pressure water jetting service or another drain cleaning solution.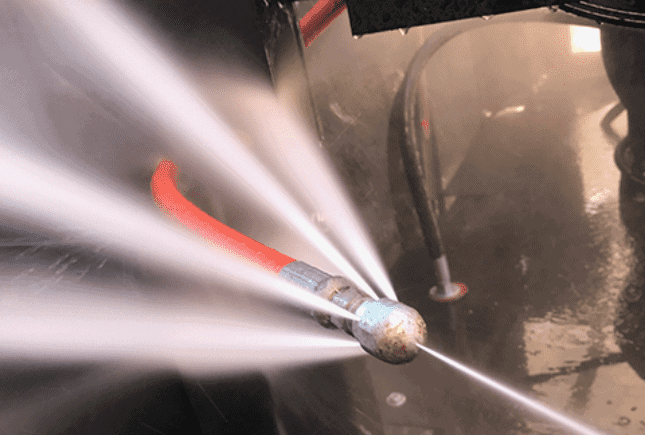 Cable is good, but jetter is better!
At King Rooter & Plumbing, we use the latest jetting equipment to provide our customers in Denver with the best possible service. Unlike traditional cabling methods, jetting uses high-pressure water to blast away debris, leaving your pipes clean and clear.
Our state-of-the-art equipment includes the Spartan 743 Sewer Jetter and the powerful Warthog nozzle. With a capacity of up to 4000 psi, our equipment is designed to safely and efficiently remove even the toughest clogs in your drain lines.
Don't let clogs disrupt your daily life. With our drain jetting services, we can quickly and effectively clear out any blockages and restore your pipes to optimal function. Watch our demonstration video below to see how the Warthog nozzle effectively removes debris from even the toughest clogs.
At King Rooter & Plumbing, we use the Warthog nozzle to tackle even the toughest clogs. With its controlled rotation and 15° angled penetrating jet, this nozzle is designed to shred tree roots, remove grease, clear away ice blockages, and get rid of hard mineral deposits.
The Warthog's design is what sets it apart from other nozzles. With fewer jets, the hitting power is concentrated, delivering the most effective surface cleaning possible. Additionally, a viscous fluid governor reduces the rotating speed of the head, allowing the jets to deliver their full power against the interior of the pipes.
When it comes to drain cleaning, the Warthog nozzle is the best technology available. Contact King Rooter & Plumbing today to schedule a drain cleaning service using the powerful Warthog nozzle.
We use a Spartan 300-gallon Model 743 Hot Water Jetter, which is a great piece of equipment from the biggest family of sewer jetters on the market. The unit has a kerosene-powered heating element on board that heats the water to 130 degrees. This lets us clean clogged lines at 4,000 PSI and 12 gallons per minute, which are the highest flows and pressures available.
At that temperature, frozen sewer lines can be unblocked in seconds, soap scum can be melted out of drain lines, and grease clogs can be fixed faster than ever. With an on-board thermostat, we can control the temperature and finish jobs faster than ever. The Hot Jet is big enough to bring water right to the job site, or it comes with a hydrant fill connection for bigger jobs.