At King Rooter & Plumbing one of our specializations is Sewer Scope inspections. We are sewer line scope inspection experts, having inspected, repaired, and replaced thousands of sewer lines.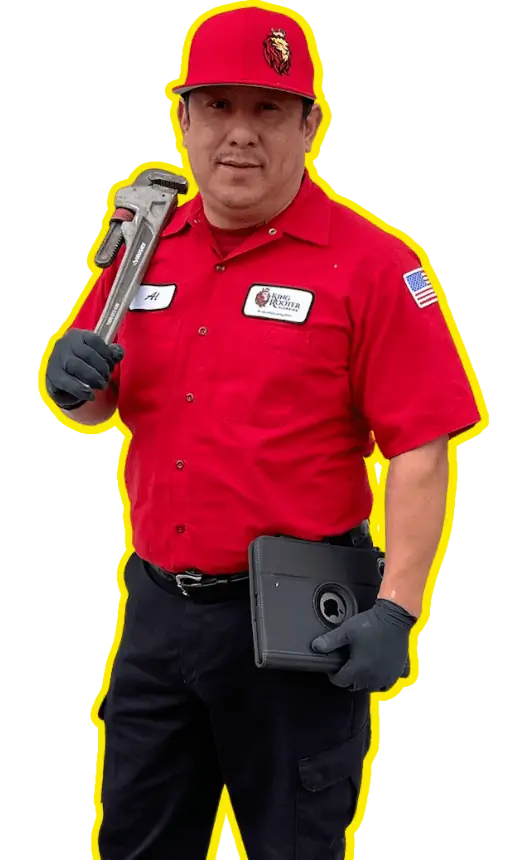 Are You Ready To
Get Started?
Schedule Your Estimates Today
Our sewer scope inspection service enables us to provide you with a thorough inspection of the sewer line, pinpointing any problem areas and cause of the pipe failures. Once the problem has been discovered, the next step is to locate the exact position of the clogged or broken pipes. Pipes usually do not run in a straight line, so to locate the pipe a pipe locating transponder must be used. The transponder locating device sends a signal from the camera head in the pipe to our device on the surface that tracks it, and we can mark precisely where and how deep where the pipe repair is needed.
Watch the Demo Video
When your sewer system is backing up a sewer scope inspection should be done to determine the cause of the problem. Some indicators of a sewer problem include sewage smell, toilets that don't flush, backed up drains, and sinking ground. As old pipes age, they begin to deteriorate and clay or concrete pipes crack, suffer tree root invasion, and shifting ground causes pipes to separate. These conditions can be indicators of problems in your side sewer which is the lateral line from your home to the city sewer main.
We use start-of-the-art technology with our Sparvision 200 Sewer Camera and locating equipment. This allows us to see every inch of your sewer line in real time, and provide you with an accurate diagnosis of any problems you have in your sewer pipe. The sewer inspection will reveal any blockages, tree roots, cracked lines, low slope areas or "bellies" that need to be fixed.
Verify Sewer Line Problems
The main benefit of doing a sewer scope inspection is that you know exactly what the problem is enabling you to make the right decisions. You may just need a good sewer line cleaning, and not a sewer line replacement costing your thousands of dollars. If your line does have major damage and needs to be replaced, at least you will know that you're replacing your sewer line because it needs to be done.
We offer professional high-quality sewer scope inspections starting at $95. Our sewer scope service includes a camera inspection of the entire line, written report, DVD, and a posting of the video online for your viewing.