Clogged drains can be nightmarish, but you should not fear a clogged drain. King Rooter & Plumbing provides expert drain cleaning services. We are here to unclog your drains and restore your home or business to normal.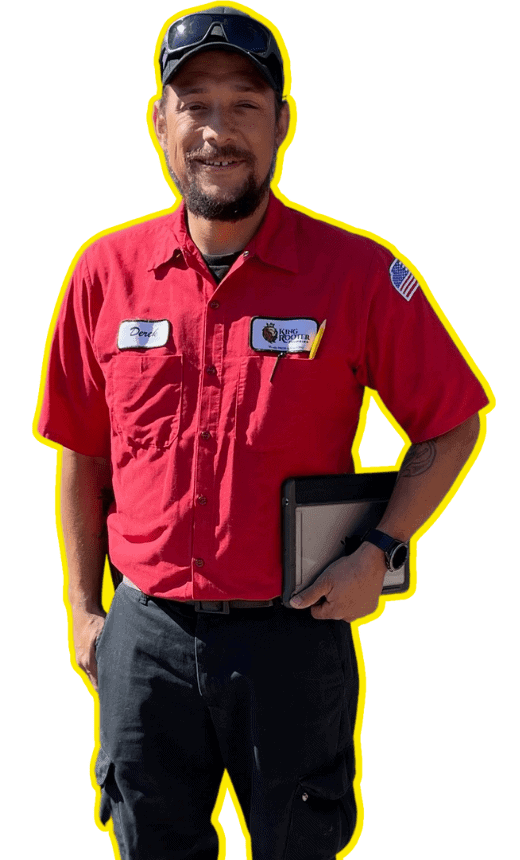 Are You Ready To
Get Started?
Schedule Your Estimates Today
There are two primary methods of cleaning out drain lines – cabling or "rooter" service, or hydro-jetting.
Our drain cleaning technicians will try to cable out the drain line. In most cases this technique allows us to clean your drain and getting them functioning properly. Drain cabling cuts away blockages, clogs, an other debris and gets your drain line draining again. The cabling machine feeds a cable, with a razor sharp cutting blade on the end, made of hardened steel through the drain line. In most cases, drain lines can be cleared by the cabling technique.
We use the Speedrooter 92 power drain cleaner which is the best drain cabling machine available. It enables us to clear tree roots and other difficult obstructions in basement drains and lines to the street, or septic tank.
Our Drain Cleaning Denver plumbers are available for fast, same day service to unclog drains for residential and commercial customers in your area.
Drain clogs can happen at anytime of the day or night, and do not follow a 8am – 5pm schedule. Our customers may require drain services to unclog drains anytime day or night. Because of this, we offer emergency rooter service and drain cleaning.
We provide drain cleaning services for any type of property – residential or commercial.
Single family homes
Apartment, condos, townhomes
Restaurants
Business offices
Convention centers
Hotels and motels
Mobile homes
Office buildings
Retail
Other commercial properties
Sometimes the debris that has built up in a drain line is too serious and cannot be cleaned with the cabling method.
If this is the case, the high pressure water jetting method will need to be utilized. High pressure water or "hydro" jetting is a high pressure hose with a jetter head that has multiple pinholes where high pressure water is released. The jetter method scours the drain line walls and it makes it way through the drain line. Any build up of sludge, grease, and other debris will be removed. This technique cleans up the drain lines leaving them in pristine condition.