Coronavirus Plumbing Safety
Increased Safety Measures
As licensed Colorado plumbers, we have always prioritized safety every day when performing plumbing services, for our technicians and our customers in their homes or business. Due to the Coronavirus pandemic, King Rooter has instituted increased safety measures to ensure our customers' safety, and to protect the health of our employees.
Increased Safety Measures
Plumbing companies are deemed essential businesses that will continue to operate during coronavirus closures. If your home or business requires plumbing services, we are OPEN and available for your plumbing service and repair needs. Please call us at (303) 949-2593 with any questions about our practices and availability.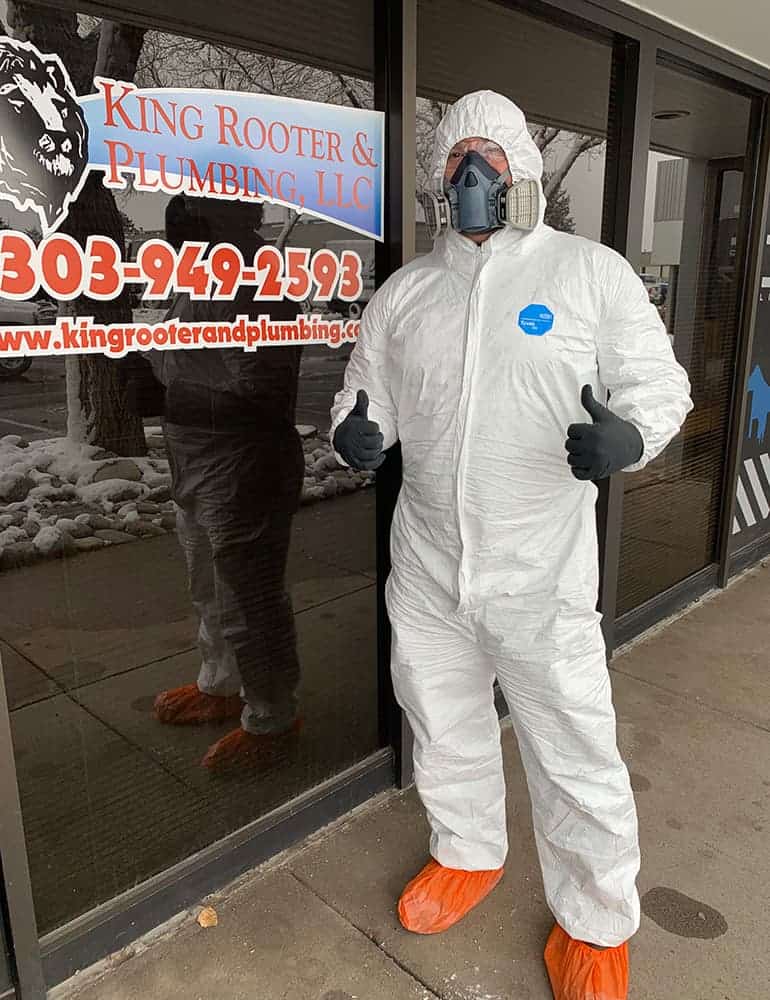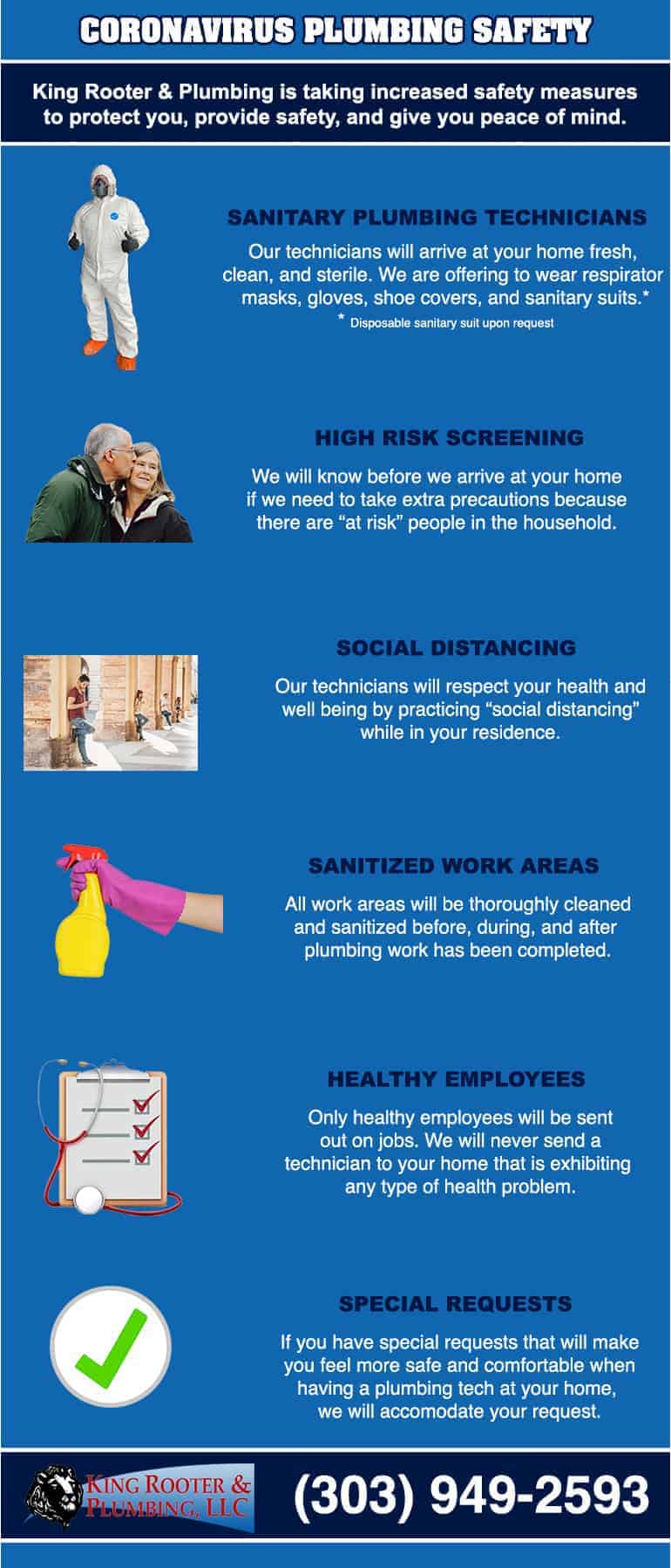 Coronavirus Safety Solutions
King Rooter & Plumbing has you covered with Coronavirus safe plumbing solutions to protect your family and provide you with safety, and peace of mind.
Sanitary Plumbing Technicians
Plumbers service many homes and businesses. To ensure your safety, our technicians are taking extra precautions, and arriving fresh, clean, and sterile. Be certain that our plumbing technicians have been thoroughly trained to sanitize before arrivng to your home, during their work there, and after leaving your residence. We are offering to wear respirator masks, gloves, shoe covers, and sanitary suits.
We are making sure to get profiles of homes before we arrive to make sure we take extra precautions if there are household members that are at higher risk of getting sick from COVID-19. These include people over age 60, especially those over 80, and people who have chronic medical conditions like heart, lung, or kidney disease, diabetes, or comprimised immune systems. When scheduling an appointment with us, please make sure to let us know if there at risk individuals in your home.
Under normal conditions, our service plumbers would enjoy friendly handshakes with our customers. As recommended by health organizations, our technicians will keep a increased distance between themselves and customers to six feet to ensure you and our employees reduce the chance of spreading or contracting Coronavirus.
Our technicians will be certain to clean all work areas vigorously, and you will be allowed to inspect the work areas after job completion to make sure it has been sanitized to your satisfaction.
Only Healthy Employees On the Job
None of our plumbers have traveled out of the country in the last 30+ days, and our policy has always been to not have a ill employee show up for work, or send a sick employee out on a job.
Customer Special Requests
If you have special requirements that you would make you feel more safe and comfortable when having a service technician at your home, we will certainly make this happen. We want to make sure you have peace of mind.
Coronavirus Plumbing Solutions
King Rooter & Plumbing offers several services that can make your home safer and more comfortable.
Avoid Toilet Paper Shortage!
Don't worry about a toilet paper shortage. We have several bidet or washlet paperless toilet solutions for ANY budget!
Don't depend on having to get plastic water bottles all the time. Get bottled water quality directly from your tap with HALO or Enviro water purification systems! We are trained and experienced installers of HALO and Enviro whole house water purification system installation. In addition to having a safe water source online all the time, you will create less trash and protect our oceans!