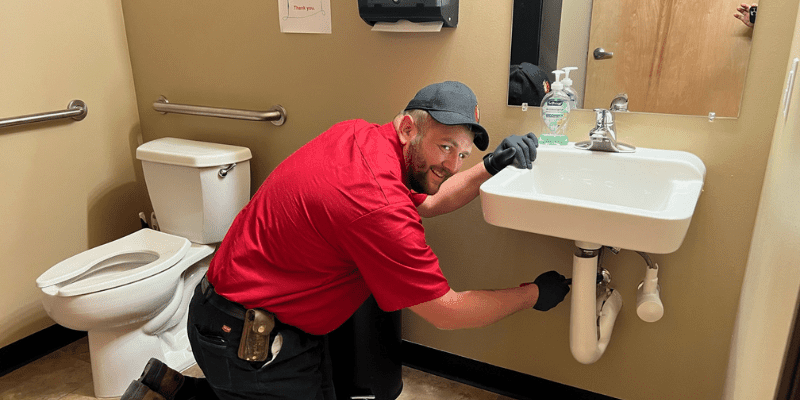 Top-Rated Residential Plumber
in Golden, CO
Living in Golden, CO, you know a faulty sump pump isn't just an inconvenience—it can mean water damage, destroyed keepsakes, and even mold issues that can jeopardize your health. If your sump pump is giving you more anxiety than assurance, it's time to call in the cavalry—that's us, King Rooter & Plumbing.
We're not just here to fix your sump pump; we're here to kick those flood worries to the curb, once and for all. Whether it's late night and your sump pump has decided to take a nap during a downpour, or you're just realizing it might be time for a replacement, we've got you covered.
So why let your sump pump turn your basement into a disaster zone? Reach out to King Rooter & Plumbing now, and let's make sure your Golden home stays safe and dry all year round.
Our Unbeatable Sump Pump Services for Golden, CO Residents
Ever had your evening ruined because your sump pump decided to quit? We know how stressful that can be. A sump pump is your basement's defense against becoming a water-logged disaster zone. That's why at King Rooter & Plumbing, we focus on providing sump pump services that are spot-on and dependable. Here's what we can do for you:
Thinking about upgrading your sump pump to a model that won't let you down? Our team of experts is here to provide top-notch sump pump installation services, ensuring your sump pump is set up to function effectively and safeguard your home.
Is your sump pump acting more like a decoration than a flood-prevention device? We all know that a faulty sump pump can open the doors for potential water damage. Don't worry, our skilled technicians can diagnose and repair all kinds of sump pump issues, making sure your unit is ready for action when you most need it.
Just like any other home appliance, regular maintenance can prevent unexpected breakdowns and increase your sump pump's lifespan. We offer thorough maintenance services, from system checks and cleaning to minor repairs, to keep your sump pump in peak condition.
Emergency Sump Pump Services
Got hit by an unexpected rainstorm? Sump pump emergencies don't follow the clock and can happen at any time. That's why we offer 24/7 emergency services, so you have immediate, reliable solutions for those unforeseen sump pump problems.
Why Rely on King Rooter & Plumbing for Your Sump Pump Needs in Golden, CO?
Okay, let's cut to the chase. There are a bunch of choices out there for sump pump services, but it's pretty much a gamble if you don't know who you're dealing with. Choose poorly, and you could be trading in your basement for a makeshift swimming pool. So why not stick with a sure thing? Here's why you'll love working with us:
We're Your Local Go-To's — No Gimmicks, Just Genuine Skill: When you choose King Rooter & Plumbing, you're not just getting a quick fix — you're getting real expertise from local pros who understand your needs. We're part of your community, and we know sump pumps like we know our morning coffee routes.
Forget Happy—We Aim for Ecstatic!: You know the drill. Some folks just want to meet the bare minimum, but that's not us. Whether we're installing a cutting-edge sump pump or reviving your faithful old unit, our goal is to leave you not just satisfied, but downright ecstatic.
Emergency? Just Holler, We're Up!: Sump pump troubles never come at a convenient time — we get it. That's why we're on standby 24/7. No need to watch your basement turn into a disaster zone; we're a phone call away, anytime.
What You See Is What You Get—No Hidden Charges!: Hate when a simple service turns into a guessing game of fees? So do we. That's why our pricing is transparent from the get-go. No last-minute add-ons or unexpected expenses.
So why fret over what might happen in the next downpour? Get in touch with King Rooter & Plumbing, and let's make sure your basement stays as dry as a desert—no matter what the weather has in store.
Does Your Sump Pump Make You Nervous Every Time Clouds Roll In? Take Back Your Chill with King Rooter & Plumbing in Longmont, CO.
Let's be real: A sump pump shouldn't be your arch-nemesis every time a rain cloud appears. If you're biting your nails every time it sprinkles, it's time for a sump pump upgrade, and that's where King Rooter & Plumbing comes in. From the basics like check-ups to oh-no-the-basement's-flooding moments, we're available 24/7 to help you out.
So, why spend another minute worrying if your basement's gonna turn into a swamp? Reach out to King Rooter & Plumbing now to set up an appointment or get a free quote. It's time to put sump pump worries in the rearview and cruise into a flood-free future.
"*" indicates required fields
6 Different Reasons You Should Hire Us