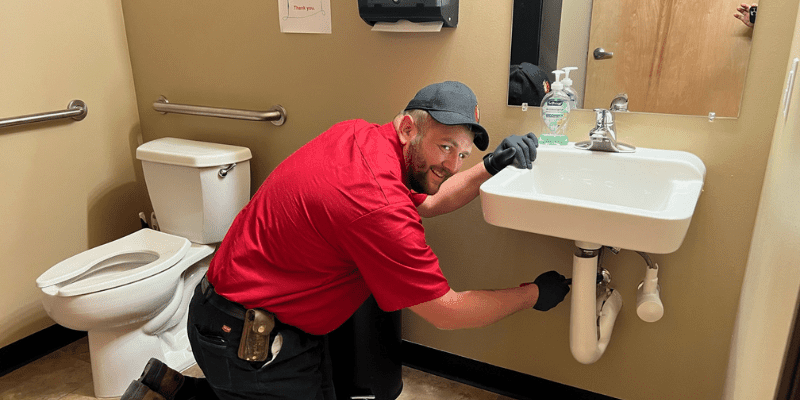 Top-Rated Residential Plumber
in Greenwood Village, CO
We all know sump pumps are the silent heroes of our basements, quietly keeping our spaces dry and safe. But what happens when that hero starts acting a little less heroic? Maybe it's started to make odd noises, or perhaps it's not draining as efficiently as it used to. These are not just quirks; they're your sump pump's way of waving a red flag that it might be time for some professional care.
That's where King Rooter & Plumbing comes in. We specialize in diagnosing those little signs that can quickly turn into big, waterlogged problems. From Greenwood Village's unique soil composition to its occasional weather surprises, we understand what your sump pump is up against.
So, don't roll the dice with your home's safety and comfort. Instead of hoping for the best each time a storm rolls in, let us take those worries off your plate. We're your go-to experts for ensuring your sump pump is not just operational but highly efficient. Contact us today, and let's turn those small warning signs into big peace of mind.
Reliable Sump Pump Services We Offer in Greenwood Village, CO
Has your sump pump been acting more like a water feature than a flood defense lately? You're not alone, and you're definitely not without options. King Rooter & Plumbing offers a comprehensive range of sump pump services to ensure your basement stays a haven of comfort, not a breeding ground for mold. Here's how we can help:
Just moved into Greenwood Village and looking to fortify your new home against potential flooding? Our seasoned experts are masters at customized sump pump installations. No more waking up in a cold sweat during thunderstorms, wondering if your basement will flood.
Hearing odd gurgling noises from your sump pit? Before you start planning for indoor kayaking, give us a call. Our skilled technicians can diagnose and fix whatever is ailing your sump pump. In most cases, we'll have you back to a worry-free state faster than you can say "water damage."
As the old saying goes, "An ounce of prevention is worth a pound of cure." And it's never truer than with sump pumps. We offer detailed maintenance checks and cleaning to keep your system humming along beautifully, warding off those last-minute repair dramas.
Emergency Sump Pump Services
If you've been caught off guard by a sudden downpour and now your sump pump is AWOL, don't panic! We're on call 24/7 for all your sump pump emergencies. Just add us to your emergency contact list, right next to "Mom" and "BFF."
So, next time you find yourself Googling 'sump pump services near me' in Greenwood Village, CO, remember—King Rooter & Plumbing is your all-weather friend, ready to serve you, come rain or shine.
Why Choose King Rooter & Plumbing for Sump Pump Services in Greenwood Village, CO?
There are plenty of options when it comes to sump pump services, but you don't want to roll the dice with something as crucial as protecting your home from flooding. Here's why you should make King Rooter & Plumbing your first and only call:
Local Savvy with Expert Skills—No Hype, Just Help: When you choose us, you're not just getting a service; you're inviting in a local expert. We've been navigating Greenwood Village's unique challenges long enough to give you not just what you want, but also what you didn't know you needed.
Setting the Bar at Wow!: Sure, we can do the bare minimum, but where's the fun in that? We strive to exceed your expectations, leaving you not just satisfied but genuinely impressed. Whether it's the meticulous installation of a new sump pump or reviving your tired old system, we're not happy unless you're wowed.
Anytime, Seriously, Anytime—We're 24/7: Sump pump drama at 3 a.m.? Don't sweat it! We've got you covered with our around-the-clock emergency services. Because we know that sump pump issues don't wait for business hours.
No Sticker Shock Here—Transparent Pricing All the Way: Ever get a bill that made your jaw drop? Yeah, we hate that too. Our pricing is as transparent as your basement will be dry. No hidden fees, no unpleasant surprises.
So, if you're in Greenwood Village, CO, and you're tired of worrying every time clouds start gathering, it's time to stop stressing and start dialing. Reach out to King Rooter & Plumbing, and let's keep your home high and dry, regardless of the forecast.
Want to Avoid a Flooded Basement? Ensure Your Sump Pump is Up to Snuff with King Rooter & Plumbing
Why let the fear of basement flooding dampen your mood every time clouds gather? With King Rooter & Plumbing, you can put those worries to rest. We offer a comprehensive range of sump pump services that have you covered—come rain, snow, or anything in between.
Don't play the waiting game with your home's safety. Reach out to King Rooter & Plumbing today for a consultation or grab a free, no-obligation quote right away. Let's secure that dry, peaceful home you've always wanted, regardless of the weather.
"*" indicates required fields
6 Different Reasons You Should Hire Us