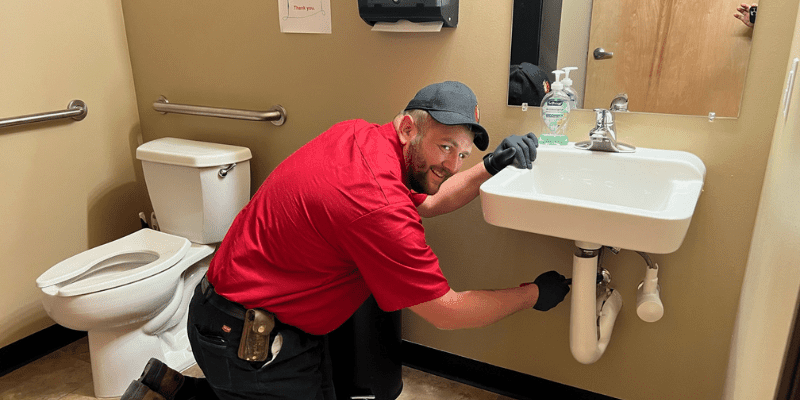 Top-Rated Residential Plumber
in Broomfield, CO
A dependable water heater in Broomfield, CO, isn't a luxury, it's a home necessity. It's the key to a soothing shower after a long day, the unseen hand behind your flawlessly clean dishes, and the secret to a smooth laundry day.
At King Rooter & Plumbing, we understand the role a well-functioning water heater plays in your daily routine and home comfort. That's why we've made it our mission to be your go-to team for all things water heaters, from minor repairs to complete replacements. Experienced an unexpected water leak that needs immediate attention? We're on it. Considering replacing your old system with a more efficient on-demand hot water heater? We'll help guide you through the process, from selection to installation. And when it's time for that routine water heater inspection, you can count on our skilled professionals to keep your system in tip-top shape.
With King Rooter & Plumbing by your side, cold showers, and inefficient appliances become a thing of the past. So, for a life of consistent hot water and uninterrupted home routines, put your trust in us. After all, you deserve nothing but uninterrupted warmth and convenience.
Complete Water Heater Solutions in Broomfield, CO
At King Rooter & Plumbing, we've got your back for all water heater services. Say goodbye to chilly mornings and hello to a reliable stream of hot water at your convenience.
Responsive Water Heater Repairs
Notice a sudden chill in your shower or a leak from your water heater? Don't worry! Our skilled technicians are experts in both gas and electric water heater repair. We diagnose the problem quickly and get your home back to its comfortable, warm self.
Expert Water Heater Installations
Thinking about replacing your old unit or considering an instant hot water heater? Let us guide you. We'll help you select the perfect replacement and promise a seamless water heater installation. Remember, when you're looking for "water heater installation near me," King Rooter & Plumbing is just around the corner.
Regular Water Heater Maintenance
Routine check-ups and tune-ups can be the difference between a cold shower and a hot one. Trust us to handle your water heater inspection and maintenance, and keep those icy surprises at bay.
Round-the-Clock Emergency Water Heater Services
Water heater emergencies can strike at any time, but with our 24/7 service, you're covered. We'll get your hot water running as soon as possible, ensuring minimal disruption to your daily routine.
Efficient Tankless Water Heater Services
Considering a shift to an on-demand hot water heater? Our team can install, repair, and maintain these compact, energy-saving units. Say hello to instant hot water and goodbye to waiting.
Tailored Commercial Water Heater Services
Keeping businesses warm and operational is a priority for us. Our commercial water heater services are customized to cater to your business's unique needs, ensuring that your operations never run cold.
Why Choose King Rooter & Plumbing for Your Water Heater Services in Broomfield, CO?
We understand, searching for top-tier water heater services in Broomfield, CO can often feel like you're navigating through a labyrinth. If you've found yourself wondering, "Who can I trust with my water heater needs?" — look no further. With King Rooter & Plumbing, we simplify your journey by offering direct access to superior service. Here's why we should be your first choice:
Seasoned Pros at Your Service: We've been in the water heater game for a good while now, witnessing and fixing all sorts of water heater stories. From performing basic water heater inspections to rolling out top-of-the-line on-demand hot water heaters, we've got the know-how to do it all and do it right.
Our Standard? Nothing Short of Top-Notch: We're sticklers for quality. So whether it's a routine check-up or a full-blown hot water heater replacement, we never settle for less than perfect. When you're with us, stellar service is a sure thing, not just a promise.
We Keep Time on Your Terms: Water heater issues don't wait for the sun to rise or set, and neither do we. Our emergency water heater repair service runs round the clock. So, whenever a water heater curveball comes your way, know we're just a call away.
Straightforward, No Nonsense Pricing: We believe in keeping things simple and above board. With us, there are no hidden costs or sudden added extras. We keep you in the loop about your bill, down to the last penny. No unpleasant surprises – that's our guarantee.
Are Water Heater Problems in Broomfield, CO Troubling You? Count on Us for Unmatched Assistance!
Don't allow water heater problems to put a damper on your day—be it an unexpected cold shower or an accumulation of unwashed dishes due to an uncooperative water heater. King Rooter & Plumbing is dedicated to eliminating that stress, providing reliable, quick, and effective water heater services in Broomfield, CO. We're here to ensure your daily routines go undisturbed.
Ready to put an end to your water heater woes? Reach out to us at 720-310-6801 or submit our online appointment form. Let's put the reliability back into your home's hot water supply because, with King Rooter & Plumbing, a seamless home environment isn't just an ideal—it's a promise.
"*" indicates required fields
6 Different Reasons You Should Hire Us